No Easy Victories
Full table of contents
Interview transcripts
Reviews
Launch events
In the classroom
Additional Sources
2022: Newly Available
Reports from the Africa Policy Information Center and Africa Action, 1997-2001
Making Connections for Africa: Report from a Constituency Builders' Dialogue, 1997, by Imani Countess et al.
Weaving the Ties That Bind: Report from an Assessment Project, 2001, by Imani Countess
International Policies, African Realities: Report from an Electronic Roundtable, 2001, Economic Commission on Africa and Africa Action
Other Resources
Other books by No Easy Victories authors
King Solomon's Mines Revisited
SmartSearch: Southern Africa Liberation History
U.S. Congressional documents on U.S. & Southern Africa, 1963-1988
Southern Africa Report (Canada), 1985-1995
At Issue Ezine (Canada), 2006-2015
At Issue Focus (Canada), 2003-2006
Southern African Solidarity in Chicago
Zeb Larson, April 22, 2021
The American Friends Service Committee and Africa: Vision and Action over Five Decades
by William Minter
Prepared for publication by the AFSC in 2008, but never released. As of May 2021, now available for public distribution by agreement with AFSC archives.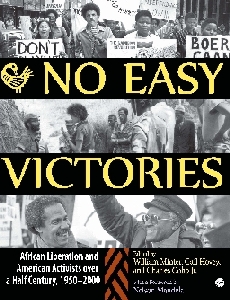 Today's featured excerpt
Durham, Durban, and AllAfrica:
Reed Kramer and Tami Hultman
Summary Table of Contents
Front matter, including activist voices
Foreword by Nelson Mandela
Chapter 1: An Unfinished Journey | William Minter
Chapter 2: The 1950s | Lisa Brock
Chapter 3: The 1960s | Mimi Edmunds
Chapter 4: The 1970s | Joseph F. Jordan
Chapter 5: The 1980s | David Goodman
Chapter 6: The 1990s | Walter Turner
Back matter, including afterword, activist voices
Available on Kindle and as Google Ebook.
Order print copies through this website at $25.50 (15% discount). paypal | print a form to mail
"We were part of a worldwide movement that continues today to redress the economic and social injustices that kill body, mind, and spirit. No Easy Victories makes clear that our lives and fortunes around the globe are indeed linked." - Nelson Mandela
Hundreds of thousands of Americans mobilized to oppose apartheid in the 1980s. That successful movement built on decades of behind-the-scenes links between African liberation movements and American activists, both black and white. No Easy Victories draws on the voices of activists of several generations to explore this largely untold history. Today Africa and the world face global injustices as deadly as apartheid. Understanding this history of solidarity is essential for finding new paths to a future of equal human rights for all.
Update July 11,2020
For a YouTube video of a powerful memorial service for Jennifer Davis, who died in October 2019,
go to https://www.youtube.com/watch?v=0vAWRAEPI-4
For more background see this excerpt from No Easy Victories.
Special Series in AfricaFocus Bulletin 2020
Beyond Eurocentrism and U.S. Exceptionalism:
Starting Points for a Paradigm Shift from Foreign Policy to Global Policy
by William Minter and Imani Countess
US-Africa Bridge Building Project
Confronting Global Apartheid Demands Global Solidarity
April 19, 2021, by Imani Countess and William Minter